The 77th Annual Academy Awards: My Predictions
31 January 2005
by
Gnoll
No Comment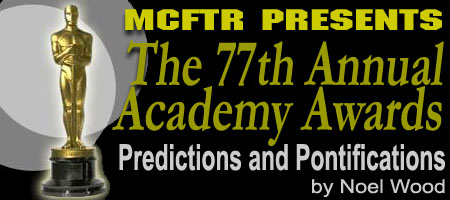 Some people get excited to wake up on Christmas morning. Because I'm a big fat nerd, I get excited to wake up on Oscar nomination morning. I usually get up right around the time nominations are announced, and get as giddy as a schoolgirl seeing if my predictions came true.
This year, there wasn't a whole lot that was too shocking. For the most part, all the major awards were identical to what most people have been predicting for some time now. The Golden Globes didn't really alter anything, but they were pretty much in line with what people were predicting anyway. The most surprising development, actually, was the appearance of THE PASSION OF THE CHRIST in several categories, despite being completely ignored at the Globes.
But enough preliminary junk. We're here to run down the nominees, make our little predictions (which will appear in red) and some comments for the major awards. Enjoy our little journey into Oscarland.

ACTOR IN A LEADING ROLE
Don Cheadle – HOTEL RWANDA
Johnny Depp – FINDING NEVERLAND
Leonardo DiCaprio – THE AVIATOR
Clint Eastwood – MILLION DOLLAR BABY
Jamie Foxx – RAY
The way the Golden Globes split their awards is usually a belssing for whoever wins in the Comedy or Musical category, but this time it was the opposite. Jamie Foxx is the critics' darling this year, and despite Leo turning in the best performance of his life, he is bound to play second fiddle to the breakout performer of the year. Surprisingly absent is SIDEWAYS' Paul Giamatti, who was almost a shoo-in for a nomination here after being ignored last year for AMERICAN SPLENDOR. Cheadle and Depp received high marks this year as well, but this is really a two-horse race. And Eastwood's presence here, despite not even receiving a nomination at the Globes, is a head-scratcher.

ACTOR IN A SUPPORTING ROLE
Alan Alda – THE AVIATOR
Thomas Haden Church – SIDEWAYS
Jamie Foxx – COLLATERAL
Morgan Freeman – MILLION DOLLAR BABY
Clive Owen – CLOSER
With one exception, this list is identical to the Globes list of nominees. This time, though, David Carradine gets the shaft for his brilliant job in KILL BILL VOL. 2 in favor of Alan Alda, who deserves the nomination as well. Clive Owen surprised a few when he picked this prize up at the Globes, but Thomas Haden Church is bound to make up for the lack of Paul Giamatti in the lead category by cleaning up here. Kudos to Jamie Foxx for picking up two nominations in the acting categories, but there ain't any way he's picking them both up. Sorry, Jamie.

ACTRESS IN A LEADING ROLE
Annette Bening – BEING JULIA
Catalina Sandino Moreno – MARIA FULL OF GRACE
Imelda Staunton – VERA DRAKE
Hilary Swank – MILLION DOLLAR BABY
Kate Winslet – ETERNAL SUNSHINE OF THE SPOTLESS MIND
Fortunately, Kate Winslet's incredible performance in ETERNAL SUNSHINE was not forgotten, although the film was for the most part. As much as I'd like to see her win this thing, she's got way too much competition, including a couple of veterans. Staunton picked up a ton of awards for her role in VERA DRAKE, and Bening has had a ton of praise (as well as the Globe for Musical or Comedy) heaped on her for BEING JULIA. But previous winner Swank is the obvious favorite here, especially considering how much the Academy seemed to love Eastwood's valentine to pugilism.

ACTRESS IN A SUPPORTING ROLE
Cate Blanchett – THE AVIATOR
Laura Linney – KINSEY
Virginia Madsen – SIDEWAYS
Sophie Okonedo – HOTEL RWANDA
Natalie Portman – CLOSER
If you had come to me a year ago and said "the category in which you will have seen the most films prior to the nominations will be Best Supporting Actress" I would have probably thought you were crazy. Not because I wouldn't believe it, but because you were making such a random prediction out of the blue. But yeah, I've seen all of these except for HOTEL RWANDA, so I can make my most educated prediction in this category. And while I really thought Linney was fantastic and Blanchett was incredible, that one scene on the porch in SIDEWAYS where Madsen tries to get Paul Giamatti to open up just blew me away. Virginia Madsen, like Thomas Haden Church, needs to take this thing home to avenge Giamatti's shafting.

WRITING (ADAPTED SCREENPLAY)
BEFORE SUNSET
FINDING NEVERLAND
MILLION DOLLAR BABY
THE MOTORCYCLE DIARIES
SIDEWAYS
I always have a fondness for the writing awards, as I feel it is an underappreciated category. A great performance and a great directing job are good, but they need a good script and story or else they don't exist. That said, I haven't seen but two of these, and while BEFORE SUNSET really deserves an award somewhere (and it's a little odd to see it in this category anyway — what is it adapted from, anyway?) SIDEWAYS did everything right this year.

WRITING (ORIGINAL SCREENPLAY)
THE AVIATOR
ETERNAL SUNSHINE OF THE SPOTLESS MIND
HOTEL RWANDA
THE INCREDIBLES
VERA DRAKE
Another crop of films that all earned high marks for their scripts this year, but there's no doubt in my mind that Charlie Kaufman's inside-out-and-up-and-down love story was the best screenplay of the year.

DIRECTING
THE AVIATOR
MILLION DOLLAR BABY
RAY
SIDEWAYS
VERA DRAKE
No question about this one. Martin Scorcese has been proving for decades that he is probably the greatest film director in the world, but the Academy has yet to give him a statue for his efforts. Much like last year was Peter Jackson's year, this year belongs to Marty. His only real stiff competition, at least in my eyes, is Clint Eastwood for MILLION DOLLAR BABY, but I don't forsee the Academy fucking this up, lest they wind up with their kneecaps broken.

BEST PICTURE
THE AVIATOR
FINDING NEVERLAND
MILLION DOLLAR BABY
RAY
SIDEWAYS
Unlike last year, there is some stiff competition in this category. Every film here is a potential spoiler for this award, with the possible exception of FINDING NEVERLAND. I doubt the award will go to SIDEWAYS, considering that Giamatti was forgotten (can you tell I'm a little irked about that?) and RAY was a little too personal of a picture to really stand out. That leaves it up to MILLION DOLLAR BABY and THE AVIATOR, and since I already chose Scorcese as best director, I have to say the AVIATOR will win by default. Besides, it has that epic biographical feel going on, and that's the kind of thing the Academy eats up.

ANIMATED FEATURE FILM
THE INCREDIBLES
SHARK TALE
SHREK 2
Two films will battle this one out neck and neck, but it'll come down to the huge box office success of SHREK 2 vs. the huge critical success of THE INCREDIBLES. The critics will win, which means that once again, the big green ogre will be trounced by a Pixar film in this category.

DOCUMENTARY FEATURE
BORN INTO BROTHELS
THE STORY OF THE WEEPING CAMEL
SUPER SIZE ME
TUPAC: RESURRECTION
TWIST OF FAITH
I didn't comment on this category last year, but I needed to make mention of it this time around because of the absence of FAHRENHEIT 9/11. For those who don't know, Michael Moore hoped to get a Best Picture nomination (which was a foolish and pompous thing to do, considering how good the crop of films he was competing against were) so he did not submit his film here. The beneficiary is Morgan Spurlock, whose terrific SUPER SIZE ME is practically a lock to win here.
Once again, for the remainder of the awards, I've decided not to go in to too much detail. Technical awards and prizes for short films and documentaries that only twelve people saw to begin with are hard to predict, so I'll just pick one and leave it at that. Of course, all of these predictions will likely change before Oscar night, so don't take my word as gospel.
ART DIRECTION
THE AVIATOR
FINDING NEVERLAND
LEMONY SNICKET'S A SERIES OF UNFORTUNATE EVENTS
THE PHANTOM OF THE OPERA
A VERY LONG ENGAGEMENT
CINEMATOGRAPHY
THE AVIATOR
HOUSE OF FLYING DAGGERS
THE PASSION OF THE CHRIST
THE PHANTOM OF THE OPERA
A VERY LONG ENGAGEMENT
COSTUME DESIGN
THE AVIATOR
FINDING NEVERLAND
LEMONY SNICKET'S A SERIES OF UNFORTUNATE EVENTS
RAY
TROY
FOREIGN LANGUAGE FILM
AS IT IS IN HEAVEN
THE CHORUS
DOWNFALL
THE SEA INSIDE
YESTERDAY
DOCUMENTARY SHORT SUBJECT
AUTISM IS A WORLD
THE CHILDREN OF LENINGRADSKY
HARDWOOD
MIGHTY TIMES: THE CHILDREN'S MARCH
SISTER ROSE'S PASSION
FILM EDITING
THE AVIATOR
COLLATERAL
FINDING NEVERLAND
MILLION DOLLAR BABY
RAY
MAKEUP
LEMONY SNICKET'S A SERIES OF UNFORTUNATE EVENTS
THE PASSION OF THE CHRIST
THE SEA INSIDE
MUSIC (SCORE)
FINDING NEVERLAND
HARRY POTTER AND THE PRISONER OF AZKABAN
LEMONY SNICKET'S A SERIES OF UNFORTUNATE EVENTS
THE PASSION OF THE CHRIST
THE VILLAGE
MUSIC (SONG)
"Accidentally In Love" – SHREK 2
"Al Otro Lado Del Río" – THE MOTORCYCLE DIARIES
"Believe" – THE POLAR EXPRESS
"Learn To Be Lonely" – THE PHANTOM OF THE OPERA
"Look To Your Path (Vois Sur Ton Chemin)" – THE CHORUS
SHORT FILM (ANIMATED)
BIRTHDAY BOY
GOPHER BROKE
GUARD DOG
LORENZO
RYAN
SHORT FILM (LIVE ACTION)
EVERYTHING IN THIS COUNTRY MUST
LITTLE TERRORIST
7:35 IN THE MORNING
TWO CARS, ONE NIGHT
WASP
SOUND MIXING
THE AVIATOR
THE INCREDIBLES
THE POLAR EXPRESS
RAY
SPIDER-MAN 2
SOUND EDITING
THE INCREDIBLES
THE POLAR EXPRESS
SPIDER-MAN 2
VISUAL EFFECTS
HARRY POTTER AND THE PRISONER OF AZKABAN
I, ROBOT
SPIDER-MAN 2