The 79th Annual Academy Awards: Predictions and Pontifications
19 February 2007
by
Gnoll
One Comment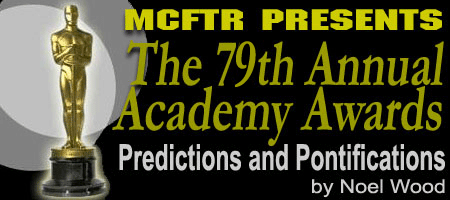 Normally, this is a feature of the site that I unleash on the same day that the Academy Award nominations are first announced. Thanks to real life getting in the way, I was unable to get it out as early as usual, but at least I'm getting it out. As per usual, I'll give my prediction on all the awards and some insight on the major ones, highlighting my predicted winners in red. I'll also give my personal picks in each of the major categories as well. So here it is, better late than never.

Best Motion Picture of the year
Babel
The Departed
Letters from Iwo Jima
Little Miss Sunshine
The Queen
A couple of months back, one film looked to be the lock to win the grand prize. A reality check for the makers of Dreamgirls came early one morning, when the film wasn' even nominated. Whoops. This clears the field for several other contenders to battle it out. The Departed may be too gritty, The Queen is too small, and Little Miss Sunshine is that one token comedy that gets a nod almost every year but never has a chance to win. That leaves Babel, which has Oscar-friendly stars, a foreign location, and political message; and Letters from Iwo Jima, which has an Oscar-friendly director, a wartime setting, and a political message. It's almost a toss-up for the big prize at this point. Babel won the Golden Globe, but last year's winner wasn't even a Globe nominee, so that's not as telling as it used to be. My personal pick here would be The Departed, although Children of Men was better than any of the nominated films. I'm still going to go with Babel as my prediction, though.

Performance by an actor in a leading role
Leonardo DiCaprio, Blood Diamond
Ryan Gosling, Half Nelson
Peter O'Toole, Venus
Will Smith, The Pursuit of Happyness
Forest Whitaker, The Last King of Scotland
Most of the awards aren't nearly as difficult to predict as the Best Picture category this year. One juggernaut has racked up just about every other award this year, and that's Whitaker, whose turn as Idi Amin will ensure that Oscar continues to make up for the criticism in years past that they didn't give prizes to black actors. As I've yet to see Scotland, My personal choice would be Gosling, whose turn as a junkie schoolteacher in Half Nelson was chilling.

Performance by an actor in a supporting role
Alan Arkin, Little Miss Sunshine
Jackie Earle Haley, Little Children
Djimon Hounsou, Blood Diamond
Eddie Murphy, Dreamgirls
Mark Wahlberg, The Departed
In a rare occurrence, I've actually seen all five nominated performances here. All five deserve nominations, but it's pretty much written that Murphy will win. I personally thought Wahlberg's turn in The Departed was one of the best of the year, but it was too small to really consider. Arkin would probably get my personal vote for this award, but I still have a soft spot for Eddie Murphy, and I won't cry when he walks out with a statue, despite such a great performance being stuck in such a lackluster movie.

Performance by an actress in a leading role
Penélope Cruz, Volver
Judi Dench, Notes on a Scandal
Helen Mirren, The Queen
Meryl Streep, The Devil Wears Prada
Kate Winslet, Little Children
Yet another gimme on this one, for just as Whitaker cleaned up on the festival circuit, so did Mirren, who will become something like the 438th actress to win an award for playing someone named "Queen Elizabeth". Since I've only seen one of the films in this category, my personal pick would be for Kate Winslet in Little Children.

Performance by an actress in a supporting role
Adriana Barraza, Babel
Cate Blanchett, Notes on a Scandal
Abigail Breslin, Little Miss Sunshine
Jennifer Hudson, Dreamgirls
Rinko Kikuchi, Babel
As with all three other acting awards, this one is pretty much written in stone. Hudson, despite basically being recognized for her singing abilities rather than her acting abilities, has cleaned up at all other awards shows, so it's pretty much a lock she'll grab this one too. Personally, I'd vote for Breslin, but considering that her performance in Little Miss Sunshine is the only other one I have actually seen besides the overrated one in Dreamgirls, that's pretty much my only option.

Achievement in directing
Babel, Alejandro González Iñárritu
The Departed, Martin Scorsese
Letters from Iwo Jima, Clint Eastwood
The Queen, Stephen Frears
United 93, Paul Greengrass
It's time! It's time! It's Marty Time! Finally, Scorcese will be taking home a little gold statue for his work, despite the fact that he's made dozens of films that deserved the award before this year. His only real fear, I'm sure, is that Eastwood will again get the vote (the academy loves actors who direct, probably because most of the members are actors themselves). However, despite me being wrong two years ago when I predicted Marty and Clint won instead, I'm sticking this one out as both my personal pick and my official prediction.

Original screenplay
Guillermo Arriaga, Babel
Iris Yamashita, Paul Haggis, Letters from Iwo Jima
Michael Arndt, Little Miss Sunshine
Guillermo del Toro, Pan's Labyrinth
Peter Morgan, The Queen
I've only seen one of the nominated films, but it also happens to be the one I predict as the winner. Little Miss Sunshine is just that quirky little script that the Academy loves.

Adapted screenplay
Borat
Children of Men
The Departed
Little Children
Notes on a Scandal
I'm not sure exactly what a film comprised almost entirely of improvisation is doing vying for an adapted screenplay award, but it's not going to matter because Borat isn't going to win this one. The only one I can't speak for is Notes on a Scandal, but the other three are all deserving. I'm going for The Departed, as it's already received tons of praise as an update of Hong Kong's Infernal Affairs.

Best animated feature film of the year
Cars
Happy Feet
Monster House
Pixar and Disney's recent kissing and making up, combined with an all-star cast, a Randy Newman score, and a 260 million dollar box office, it's not too much to assume that Cars will take this. It's also a lot better than Happy Feet, the only other one I've seen, so it's my personal pick as well.

Best documentary feature
Deliver Us from Evil
An Inconvenient Truth
Iraq in Fragments
Jesus Camp
My Country, My Country
It's not exactly news that Al Gore's glorified slide show is a critical darling as well as a box office champion, and so the Oscar it shall win. Of the five nominated, it's the only one I've seen, and I enjoyed it, so I'm willing to give it my personal nod too — although This Film Has Not Been Rated was even better and didn't get nominated (for obvious reasons).
---
For the rest, it's just predictions. After all, you want to read about my choices of why I picked a film for the best Sound Editing Oscar any more than I want to write about it.
Achievement in cinematography
The Black Dahlia
Children of Men
The Illusionist
Pan's Labyrinth
The Prestige
Visual Effects
Pirates of the Caribbean: Dead Man's Chest
Poseidon
Superman Returns
Achievement in costume design
Curse of the Golden Flower
The Devil Wears Prada
Dreamgirls
Marie Antoinette
The Queen
Achievement in sound mixing
Apocalypto
Blood Diamond
Dreamgirls
Flags of our Fathers
Pirates of the Caribbean: Dead Man's Chest
Achievement in music written for motion pictures (Original song)
"I Need to Wake Up," An Inconvenient Truth
"Listen," Dreamgirls
"Love You I Do," Dreamgirls
"Our Town," Cars
"Patience," Dreamgirls
Best animated short film
The Danish Poet
Lifted
The Little Matchgirl
Maestro
No Time for Nuts
Achievement in film editing
Babel
Blood Diamond
Children of Men
The Departed
United 93
Achievement in art direction
Dreamgirls
The Good Shepherd
Pan's Labyrinth
Pirates of the Caribbean: Dead Man's Chest
The Prestige
Achievement in makeup
Apocalypto
Click
Pan's Labyrinth
Achievement in sound editing
Apocalypto
Blood Diamond
Flags of Our Fathers
Letters from Iwo Jima
Pirates of the Caribbean: Dead Man's Chest
Achievement in music written for motion pictures (Original score)
Babel
The Good German
Notes on a Scandal
Pan's Labyrinth
The Queen
Best foreign language film of the year
After the Wedding
Days of Glory (Indigènes)
The Lives of Others
Pan's Labyrinth
Water
Best documentary short subject
The Blood of Yingzhou District
Recycled Life
Rehearsing a Dream
Two Hands
Best live action short film
Binta and the Great Idea (Binta Y La Gran Idea)
Éramos Pocos (One Too Many)
Helmer & Son
The Saviour
West Bank Story