The Tourist
31 March 2015
by
Baldy
No Comment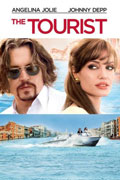 2010, Dir. Florian Henckel von Donnersmarck
PG-13, 103 minutes
Starring: Depp, Angelina Jolie, Paul Bettany, Timothy Dalton, Rufus Sewell
What a selection we have in movies today! There's Avatar (special effects show they later decided to try to add a plot to), Chipmunks: The Squeaquel, SEVEN Saw films, and Seth Rogen and Jonah Hill have still not gone away. There is so much pathetic shit being peddled in theaters that it's almost disturbingly pleasurable to see a movie that just tells a story, and tells it well. The Tourist does that.
It all started when I met a woman on a train from Paris.
Angelina Jolie is Elise Clifton-Ward, an elegant British woman who is being followed (extremely closely) by Interpol. They hope that she will lead them to her lover, a man who has stolen over two billion dollars in one fell swoop. When her lover summons her, he instructs her to find someone of his build to get close to. To distract the police, she will act as if she knows this stranger and let the cops deduce that this man is her lover. She gets on a train to Venice, where she meets Frank Tupelo (Johnny Depp), a math teacher from Wisconsin. With his unwitting help, she leads the police through a long series of "Do we have him? Is this the right guy? I dunno."
As I said, it is a well-told story. In style, it is reminiscent of thrillers from the sixties. Jolie is lovely (having apparently abandoned the skank look for the moment) and her clothing has the kind of timeless elegance that will still look great in twenty years. Like older thrillers, the location plays heavily into how the film is shot. Though several locations are used, the viewer is left with impressions of Venice and of a train. Venice is as scenic as ever, but the canals and narrow alleys and buildings provide a suspense that another location could not. Hans Zimmer's score plays a great supporting role, providing suspense and helping to create moods that enhance the feel of the film. Like older films, a great deal of attention and emphasis is spent focused on the two main characters. It's not the characters themselves, but rather their dialogue and interactions and chemistry.
And the story is quite good, incidentally.
That being said, there are some irreverent notes. When the film opens to the surveillance team filming Jolie's ass and speculating "Underwear or no underwear?" it keeps the mood from being too serious. For a film involving so many Italian cops, I found myself wondering "Where is Giancarlo Giannini?" It seems that any time a film needs an Italian cop, he's the go-to guy. Kind of like the fact that Jean Reno is apparently the French uber-cop. When she says "Tie us up," it almost doesn't matter that she happens to be talking about a boat. Dayum. Skorpion machine pistols are scary things.
Jolie did well. My guess is that they made her British because people tend to think Brits are chic (Benny Hill memories aside). I'm tired of her trying to be British. She looked elegant and sensual and beautiful, but for the first time I know of she looked like a fully grown-up woman. Though her curves were great, her arms were borrowed from Calista Flockhart and her clavicles can serve as shelves. Get her a steak sandwich, or something. Considering that she was the second choice behind (the exquisite) Charlize Theron, she did well. Of course, she said she did it because she knew it was going to be a short shoot in Venice. . .
Johnny Depp as the socially inept, insecure, bookish Frank Tupelo is excellent. You would expect that. His performance is such a change from his more recent and well-known roles that it's both notable and refreshing. They first considered Tom Cruise (ugh) and then Sam Worthington (interesting), but Depp brought that intangible thing to the table that worked very well for the film.
Paul Bettany, Rufus Sewell and Timothy Dalton each show up briefly, but they're not anything special. The film is also relatively family friendly. No sex, a bare smattering of bad language, and a wee bit of violence (that ends up being fairly harmless).
So yeah, it's definitely worth watching. I won't say it's something that has to be seen on the silver screen, but I would recommend it to anyone who loves a good thriller.