Link to us!
Syndicate!

Affiliates:
Peep these links:
The Toque
Geek of the Day
Biting Satire
Barry the Bachelor
Evil Guide
Start your own Cult
Funny Feed
Humor Planet
Conspiracy Network
Grouchy Joe
Paranormal Cafe
All Dumb
Busted Tees
Defunker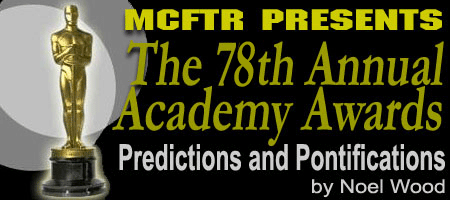 Another year, and another load of awards to be given away. Yes, it's that time again; the time of the year where Hollywood pats itself on the back and hands out little golden statues to people that really don't need anything else to bolster their ego. And, as always, I am here to make my predictions.
This year's crop of nominees yields very little in the way of surprises. For the most part, this is about how I would have expected it. As always, the Academy ignored a lot of great films to go with movies that they may have chosen for political reasons and other artificial criteria. But that's Oscar for you, and it's not likely that he's going to change his socks anytime soon.
So without any further ado, here are the nominees, along with my haphazardly chosen predictions in red. As you can probably imagine, these predictions don't refelct the views of all members of the MCFTR staff, and will likely change up to Oscar night. We'll see.
On with the nominations!

PERFORMANCE BY AN ACTOR IN A LEADING ROLE
Philip Seymour Hoffman - CAPOTE
Terrence Howard - HUSTLE & FLOW
Heath Ledger - BROKEBACK MOUNTAIN
Joaquin Phoenix - WALK THE LINE
David Strathairn - GOOD NIGHT, AND GOOD LUCK.

If you use the Golden Globe awards as any sort of barometer, then Philip Seymour Hoffman has this award locked up. If you use pretty much every other critical barometer out there, then Philip Seymour Hoffman has this award locked up. If you've got any money at all riding on this one, then I strongly advise you to choose Philip Seymour Hoffman.



PERFORMANCE BY AN ACTOR IN A SUPPORTING ROLE
George Clooney - SYRIANA
Matt Dillon - CRASH
Paul Giamatti - CINDERELLA MAN
Jake Gyllenhaal - BROKEBACK MOUNTAIN
William Hurt - A HISTORY OF VIOLENCE

Unlike the lead acting awards, the Golden Globes don't split this category between Drama and Comedy/Musical. Even with that, Oscar would never nominate Will Ferrell for his work in The Producers as the Globes did. The Globes also didn't give this award to Paul Giamatti, despite the fact that almost every other major critical body in America did. The Oscars probably will, if for no other reason to correct that little snub from last year.



PERFORMANCE BY AN ACTRESS IN A LEADING ROLE
Judi Dench - MRS. HENDERSON PRESENTS
Felicity Huffman - TRANSAMERICA
Keira Knightley - PRIDE & PREJUDICE
Charlize Theron - NORTH COUNTRY
Reese Witherspoon - WALK THE LINE

While this award is split at the Globes, it's not here. That's usually trouble for whomever is nominated for the Comedy or Musical award, but in this case, I don't think Reese Witherspoon has much to worry about. Dench gets her token nomination, Knightley was in too trivial a film, and Theron won too recently to have a chance. Reese's primary competition comes from Globe Drama winner Huffman, but the fact that the Globes cover television gave her an advantage in that award's voting. For what it's worth, I don't think she stands a chance against Witherspoon, who was amazing as June Carter.



PERFORMANCE BY AN ACTRESS IN A SUPPORTING ROLE
Amy Adams - JUNEBUG
Catherine Keener - CAPOTE
Frances McDormand - NORTH COUNTRY
Rachel Weisz - THE CONSTANT GARDENER
Michelle Williams - BROKEBACK MOUNTAIN

Probably the tightest race in all of the acting categories. Weisz pulled an upset by winning the Golden Globe, but she's facing a lot of tough competition. Johansson is the least likely to take this one, but stong competition comes from Keener and McDormand. However, Michelle Williams earned tons of praise for her role as the tortured wife of a gay cowboy, and will probably earn to add another trophy to the Brokeback Mountain juggernaut.



ADAPTED SCREENPLAY
BROKEBACK MOUNTAIN
CAPOTE
THE CONSTANT GARDENER
A HISTORY OF VIOLENCE
MUNICH

I really don't have a lot to base this one on, since I've only seen two of the films in this category. But a victory for Brokeback Mountain is always a safe bet.



ORIGINAL SCREENPLAY
CRASH
GOOD NIGHT, AND GOOD LUCK.
MATCH POINT
THE SQUID AND THE WHALE
SYRIANA

This is the only one of my predictions that is based more on personal taste than scientific method. I really liked The Squid and the Whale, and its script is reason number one for that. I can't comment on Match Point as I have yet to see it, but out of the other choices, Clooney's tribute to Edward R. Murrow is the other likely candidate for this award.


ACHIEVEMENT IN DIRECTING
BROKEBACK MOUNTAIN
CAPOTE
CRASH
GOOD NIGHT, AND GOOD LUCK.
MUNICH

Steven Spielberg has earned high marks for Munich, and seems a likely candidate to win the spot. However, Ang Lee is an Oscar darling and his majestic Brokeback Mountain is going to win just about everything it's up for.



BEST MOTION PICTURE OF THE YEAR
BROKEBACK MOUNTAIN
CAPOTE
CRASH
GOOD NIGHT, AND GOOD LUCK.
MUNICH

This year's Best Picture scene has basically been a race to find something to put up against the gay cowboy juggernaut. It'a almost a lock to win, and despite some good critical acclaim for its opponents, nothing really stands its way. Munich is the only one with a possibility to upset it. Unfortunately, the Golden Globe winner Walk the Line was bumped in favor of the overrated puff piece Crash.



BEST ANIMATED FEATURE FILM OF THE YEAR
HOWL'S MOVING CASTLE
TIM BURTON'S CORPSE BRIDE
WALLACE & GROMIT IN THE CURSE OF THE WERE-RABBIT



Critics love Nick Park. Wallace and Gromit shorts always earn their praise, and have captured little gold men before. Corpse Bride was a technical achievement, but lacked story acclaim. Howl's Moving Castle was applauded by critics, but didn't become a commercial success. Were-Rabbit to the rescue!



ACHIEVEMENT IN MUSIC WRITTEN FOR MOTION PICTURES (ORIGINAL SONG)
"In the Deep" - CRASH
"It's Hard Out Here for a Pimp" - HUSTLE & FLOW
"Travelin' Thru" - TRANSAMERICA


Not a category I usually highlight, but one I need to include this year for two reasons. First, there's only three nominees rather than the usual five. This will cut some time from the ceremony, as they won't have five songs to space out over the course of the night. Second, this is the thinnest crop of nominees I've seen in ages. None of these were crossover pop hits, and the one that will likely win is so bad that it almost seems like a parody of its own genre.


---
For the rest, I'm just going to make my predictions without commentary. Nobody really cares about the majority of the awards, so they're not really likely to want to hear what I have to say about them. Also, I don't really know or care enough about them anyway.

BEST DOCUMENTARY FEATURE
DARWIN'S NIGHTMARE
ENRON: THE SMARTEST GUYS IN THE ROOM
MARCH OF THE PENGUINS
MURDERBALL
STREET FIGHT

ACHIEVEMENT IN ART DIRECTION
GOOD NIGHT, AND GOOD LUCK.
HARRY POTTER AND THE GOBLET OF FIRE
KING KONG
MEMOIRS OF A GEISHA
PRIDE & PREJUDICE

ACHIEVEMENT IN CINEMATOGRAPHY
BATMAN BEGINS
BROKEBACK MOUNTAIN
GOOD NIGHT, AND GOOD LUCK.
MEMOIRS OF A GEISHA
THE NEW WORLD

ACHIEVEMENT IN COSTUME DESIGN
CHARLIE AND THE CHOCOLATE FACTORY
MEMOIRS OF A GEISHA
MRS. HENDERSON PRESENTS
PRIDE & PREJUDICE
WALK THE LINE

BEST DOCUMENTARY SHORT SUBJECT
THE DEATH OF KEVIN CARTER: CASUALTY OF THE BANG BANG CLUB
GOD SLEEPS IN RWANDA
THE MUSHROOM CLUB
A NOTE OF TRIUMPH: THE GOLDEN AGE OF NORMAN CORWIN

ACHIEVEMENT IN FILM EDITING
CINDERELLA MAN
THE CONSTANT GARDENER
CRASH
MUNICH
WALK THE LINE

BEST FOREIGN LANGUAGE FILM OF THE YEAR
DON'T TELL
JOYEUX NOčL
PARADISE NOW
SOPHIE SCHOLL - THE FINAL DAYS
TSOTSI

ACHIEVEMENT IN MAKEUP
THE CHRONICLES OF NARNIA: THE LION, THE WITCH AND THE WARDROBE
CINDERELLA MAN
STAR WARS: EPISODE III REVENGE OF THE SITH

ACHIEVEMENT IN MUSIC WRITTEN FOR MOTION PICTURES (ORIGINAL SCORE)
BROKEBACK MOUNTAIN
THE CONSTANT GARDENER
MEMOIRS OF A GEISHA
MUNICH
PRIDE & PREJUDICE

BEST ANIMATED SHORT FILM
BADGERED
THE MOON AND THE SON: AN IMAGINED CONVERSATION
THE MYSTERIOUS GEOGRAPHIC EXPLORATIONS OF JASPER MORELLO
9
ONE MAN BAND

BEST LIVE ACTION SHORT FILM
AUSREISSER (THE RUNAWAY)
CASHBACK
THE LAST FARM
OUR TIME IS UP
SIX SHOOTER

ACHIEVEMENT IN SOUND EDITING
KING KONG
MEMOIRS OF A GEISHA
WAR OF THE WORLDS

ACHIEVEMENT IN SOUND MIXING
THE CHRONICLES OF NARNIA: THE LION, THE WITCH AND THE WARDROBE
KING KONG
MEMOIRS OF A GEISHA
WALK THE LINE
WAR OF THE WORLDS

ACHIEVEMENT IN VISUAL EFFECTS
THE CHRONICLES OF NARNIA: THE LION, THE WITCH AND THE WARDROBE
KING KONG
WAR OF THE WORLDS


All Material Copyright © 1998-2006 Movie Criticism for the Retarded.
For questions, comments, or the occasional stalking letter, send mail to Noel Wood. Please give proper credit when using any materials found within this site.