Link to us!
Syndicate!

Affiliates:
Peep these links:
The Toque
Geek of the Day
Biting Satire
Barry the Bachelor
Evil Guide
Start your own Cult
Funny Feed
Humor Planet
Conspiracy Network
Grouchy Joe
Paranormal Cafe
All Dumb
Busted Tees
Defunker
FINDING NEMO

2003, dir. Andrew Stanton & Lee Unkrich
96 min. Rated R.
Starring: Albert Brooks, Ellen DeGeneres, Alexander Gould, Willem Dafoe.

Review by Noel Wood
Well, Pixar entertainment and Disney has a whale of a record when it comes to feature films. So far, they've yet to disappoint, and their latest whopper FINDING NEMO is no different.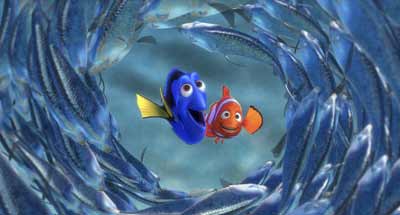 Just to show that previous works like TOY STORY 1 & 2, A BUG'S LIFE, and MONSTERS, INC. were not flukes, Andrew Stanton has reeled in yet another brilliant accomplishment in computer-generated entertainment. After months of waiting, I was more than ready to shell out my eight clams to see it, and I was quite impressed. Even though I saw it on opening weekend, in a theater packed like sardines, and full of shrimpy little kids who were screaming so much that it gave me a haddock, I couldn't kelp but enjoy it.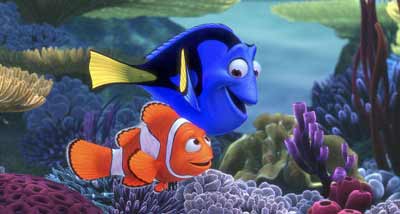 Even more of a treat was that it came out on my birthday weekend, and I knew I was going to get tanked later that night. But before I did that, I couldn't fathom making it through the day without seeing NEMO. Maybe I was being shellfish. But they had been advertising this movie for ages, and as soon as it was released, I couldn't help but take the bait.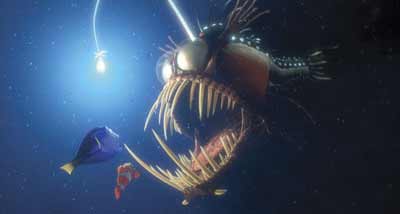 As I mentioned, FINDING NEMO is a real pearl of a movie. Like its Pixar predecessors, it balances a basic story with far from shallow moral lessons while flexing its mussels to provide a fun tale for the adults in the audience. Only a real crab would have trouble finding entertainment in the story of Marlin the clownfish and his quest to find his son Nemo. I mean, holy mackerel, this was leagues above the majority of kids' fare out there, and really server a porpoise other than just to give kids some eye candy. If you go in with a negative attitude, I'm sure it won't take long for the movie to change your tuna.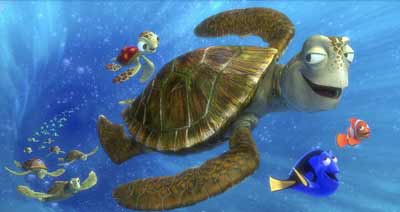 You'll definitely get your sand dollar's worth when you soak in a viewing of FINDING NEMO. It's really one of the best films to come down the pike so far this year. So stop floundering, get off your dorsal, and go see this movie. I mean, if anything, you should see it just for the halibut.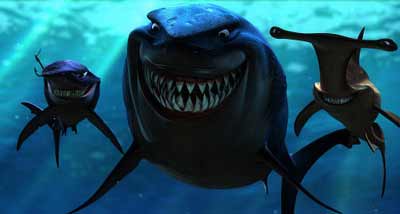 Fin.

I'm really sorry about that. Really. I hate puns as much as the next guy. But I wrote a review yesterday that I really wasn't happy with, and decided that this was far more fitting. If you're interested in reading my other review, click here. You may go on with your normal activities now.
All Material Copyright © 1998-2006 Movie Criticism for the Retarded.
For questions, comments, or the occasional stalking letter, send mail to Noel Wood. Please give proper credit when using any materials found within this site.