THE CAREER HIGHLIGHTS OF MR. T (OTHER THAN BE SOMEBODY...)
by Noel Wood

While recently stumbling across and reviewing the fine piece of infotainment that is Mr. T's "Be Somebody...or Be Somebody's Fool", I began to think back on the other fine, fine moments of the career of the man known as Mr. T. I mean, here's a guy who has risen to celebrity status despite adversity, and has struggled through many of life's hardest obstacles to remain in the spotlight. But the man born Laurence Tureaud is more than just a big muscular guy with a mohawk. He's a real live pop culture icon, and has been a staple in the industry for over twenty years.

So today, let's take a moment to look back at the finest moments of the man, the myth, and the legend: Mr. T, with a chronological cruise through his finest moments.
PENITENTIARY II
1982, Dir. Jamaa Fanaka
P2 was the first big-screen appearance for our man T, who is credited as playing "himself". This is from the tail end of the Blaxploitation era, and features Leon Isaacs Kennedy as "Too Sweet", an ex-con boxer who struggles to bring himself to title contention. Mr. T is the man who trains him for the big fight. It ain't much to write home about, but it's important as the jumping-off point for T's film career, which was about to pick up. Big Time.
ROCKY III
1982, Dir. Sylvester Stallone
Obviously impressed by T's real-life boxing skills and his role in P2, Sylvester Stallone called upon him to star in his third (and most successful) installment in the ROCKY series as Clubber Lang, the heir to the throne left open by the babyface turn of Apollo Creed. Clubber is portayed as a brutal, bonecrushing fighter who Rocky seems to have no chance against. And T definitely made his mark in this role. While P2 may have launched his career, ROCKY III made him a star, and led him into a successful television career.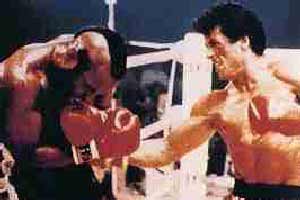 The A-Team
TV-Series, 1983-1987
Probably the role T is best remembered for is that of B.A. Baracus, one of four Vietnam Vets who comprised the group collectively known as The A-Team. Along with stars George Peppard, Dirk Benedict, and Dwight Schultz, T's popularity certainly helped the show to go on to four seasons as one of NBC's most popular programs. T's character was a tough guy with a soft side: he'd do anything for his buddies, and had an intense fear of flying. The show just celebrated its 20th anniversary, and there's a movie in the works, but unfortunately rumors that T would be asked to reprise his role as Baracus for the big-screen version have been recently quelled.
Mister T
Animated Series, 1983-1984
The Saturday-Morning-Cartoon contingent in the 1980's just couldn't resist: whenever something caught on in pop culture, it had to have its own animated show. Yes, thanks to this phenomenon, we got shows such as Pac-Man, Punky Brewster, Alf, and even Rubik's Cube to grace our television sets on the weekends. Of course, T had his own as well, leading a group of gymnasts who fought crime. Really. And he had a dog with a mohawk as well. Short-lived, but definitely worth mentioning.
D.C. CAB
1983, dir. Joel Schumacher.
After his success in ROCKY III and THe A-Team, Hollywood was bound to place T in a starring vehicle. With no pun intended, that turned out to be D.C. CAB, a travesty of cinema by Joel "I pissed on Batman" Schumacher about a cab company in the nation's capitol. The screwball comedy got wretched reviews and tanked at the box office, despite comedic turns by Adam Baldwin, Gary Busey, and a young Bill Maher. It was T's first -- and last starring role in a feature film, sadly enough.
(Somewhere in this era falls the Be Somebody video was released, which you can read about elsewhere on this site.)
WrestleMania
Special Event, 1985.
Mr. T's success as an actor came from piggybacking his success as a tough guy. T was a night club bouncer, bodyguard, and boxer before he began flirting with Hollywood. When Vince McMahon was on the road to creating the greatest event in professional wrestling history, he called upon T, who had previously worked with Hulk Hogan in ROCKY III. In the main event of the night, T was teamed up with Hogan in a tag-team matchup against "Rowdy" Roddy Piper and Paul "Mr. Wonderful" Orndorff. Oh, and did I mention that Muhammed Ali was the special guest referee for the event? Definitely one of the crowning monents in Sports Entertainment™. Oh, T returned a year later at WrestleMania II to battle Piper in a one-on-one boxing match, but it just wasn't the same.
T and T
TV Series, 1988-1990
T's star stopped shining so brightly after his failure to break out as a leading man, and with the popularity of The A-Team waning, T was down on his luck. After that show's cancellation in 1987, T found a new series to ply his trade: The Syndicated T and T. T played T.S. Turner, a retired boxer turned Private Dick, who worked with an attorney named Amy Taler. This costarred the then-and-now-unknown Alex Amini as the other "T", and it ran on various cable outlets for a few seasons before being killed off.
FREAKED
1993, Dir. Tom Stern & Alex Winter
Mr. T didn't really do much for most of the late '80s and early '90s, and this movie only backs up that fact. In this film, Alex Winter is a movie star who is turned in to a freak by a wacky scientist and joins a freakshow. T is there, as, what else -- The Bearded Lady. Costarring Brooke Shields, William Sadler, Keanu Reeves, Bobcat Goldthwait, and Randy Quaid, the film packs a lot of star power, but is barely remembered by the moviegoing public.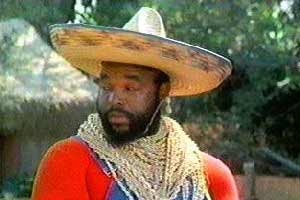 __________________________________
During his time, T made a slew of cameo appearances on popular sitcoms. Most notably, he played himself on episodes of Silver Spoons, Diff'rent Strokes (Who can forget the image of Gary Coleman with his head done up in T's mohawk from that very episode?), and Blossom.
T also made a comeback of sorts in the late '90s, turning in cameos in films like SPY HARD, INSPECTOR GADGET, and NOT ANOTHER TEEN MOVIE. However, he's most well-recognized by younger generations as the spokesman for those long distance commercials, as well as for his frequent appearances on Late Night with Conan O'Brien, where his "In the Year 2000" skits once made me shoot milk from my nose I was laughing so hard.
He's also regularly seen on episodes of Praise the Lord, where he revels in his born-again Christian faith. Mister T is a good man, and that's no jibba-jabba.
Oh, and for my fun little tribute to the man, check out My Journal before the end of February, while I've still got it up.
All Material Copyright © 1998-2006 Movie Criticism for the Retarded.
For questions, comments, or the occasional stalking letter, send mail to Noel Wood. Please give proper credit when using any materials found within this site.