Link to us!
Syndicate!

Affiliates:
Peep these links:
The Toque
Geek of the Day
Biting Satire
Barry the Bachelor
Evil Guide
Start your own Cult
Funny Feed
Humor Planet
Conspiracy Network
Grouchy Joe
Paranormal Cafe
All Dumb
Busted Tees
Defunker
INTOLERABLE CRUELTY

2003, dir. Joel & Ethan Coen
100 min. Rated PG-13.
Starring: George Clooney, Catherine Zeta-Jones, Geoffrey Rush, Cedric the Entertainer.

Review by Brodie James
The Coen Brothers (Ethan and Joel) have long since been respected by many for their unique vision, off-beat sense of humor, and subtle story telling style. Their films--no matter how recent--always seem to ring with a certain feeling of familiarity. Not that you've seen the film before, but that it clicks with something inside you helping it to feel a little more real, no matter what the subject matter.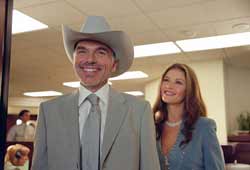 A personal fan since Raising Arizona (I've yet to see Blood Simple, but I've heard it's pretty good), I've spent many hours on my tush marveling at the masterpieces these brothers seem to be able to churn with relative ease. The Big Lebowski and Oh rother, Where Art Thou are some of the finest films I've ever had the privilege of seeing. Perhaps the unadulterated joy I derive from watching these films is partially due to the fact that, upon first viewing, I get it. Where some might falter or need to watch it a few more times to understand the humor, it clicks with my odd sense of humor beautifully; meshing with my soul as we spiral into the heavens amidst a fluffy bed of clouds made up of my laughter.
So, when I'd heard that Joel and Ethan were at it again with Intolerable Cruelty, I didn't hesitate to accept my ladies invitation to see it. I wasn't crazy about the casting choices, as neither George Clooney or Catherine Zeta-Jones really float my cinematic boat, but then again it's the Coen Brothers, so it deserves a shot.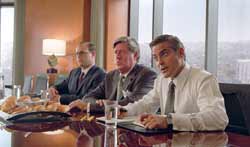 Upon viewing, I quickly realized that this wasn't the usual Coen Bros. flick (as if there could ever be one, but still). Yeah, the quirkiness is still there. While Clooney isn't one of my favorite actors, his ability to ham it up is fun, and it works within the Coen realm. Playing Miles Massey, the most admired and respected marriage lawyer in the country having written his own patented nuptial agreement, tighter than a rodent's poop shoot, Clooney oozes silliness with every turn. Having already gotten a taste of the fun that one can have with the Coens in Oh Brother... here he's just soaking it up and spreading it on thick. Playing the ham works, although does feel a little heavy handed at times, especially since he's largely responsible for it. Nobody else really picks up the slack for him, so as the movie unfolds, you start to feel an unbalance in its force.
Catherine Zeta-Jones plays the professional gold digging bride, Marylin Rexroth. She's cold, calculating, and dull. Very very dull. I'm assuming she was cast on her looks alone, because she really doesn't have to do much acting here. I know the Coen's are looking for subtle quirkiness, but Catherine was too subtle. You know, like flat subtle. Not to say I didn't completely dislike her performance (if you can call it a performance), because after all, she is The Zeta-Jones, bonafide hottie and fun to look at ... even if she's hawking phone plans on television.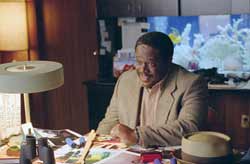 In the movie, Massey (Clooney) looks to be the man who has it all: charm, intelligence, a big ego, cars, money, a big house, women when he wants them, he's got it all. But, on the inside he feels something is missing, and he can't quite figure out what it is. At least, he couldn't until he met Marylin (The Zeta-Jones).
Hired by billionaire tycoon Rex Rexroth (played with perfection by Edward Herrmann), Miles Massey charged with a quest to defeat and destroy Rex's soon-to-be ex-wife, Marylin, a shrewd woman who smacks of sex-appeal and smarts. As if pierced through the heart by Cupid's arrow, Miles is immediately smitten with Marylin, and eagerly gives chase for her heart.
Throughout the film, we're shown the wild goose chase that Massey is forced to go on in order to win Marylin's heart; including television producers, more billionaire tycoons, and even murder-for-hire. With glorified cameos from Geoffrey Rush, Cedric The Entertainer, and Billy Bob Thornton, the Coen's both show Hollywood's eagerness to participate in their films, as well as an ability to infuse a wide variety of talent into their films.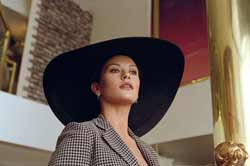 Of course, one of the bigger disappointments is that there is no John Goodman or John Turturro, or Steve Buscemi, staples up until now in Coen cinema. While having them all show up would not have been kosher (as it would have made them look desperate for nostalgia's sake), having John Goodman show up as the hired thug sent to kill Marylin Rexroth would have been a lot of fun.
In the end, what you get with Intolerable Cruelty is a fun romantic comedy worth a viewing with your loved one, but hardly the film it could or should have been with the Coen's at the helm. Not one of my favorites, but still a nice escape, and still better than the majority of films getting the green light these days. Save your dough and rent this puppy. Spend the difference on a big tub of popcorn and some whoppers.
Brodie James is a guest contributor to MCFTR. You can read more of his reviews at his site, Living Corpse.
All Material Copyright © 1998-2006 Movie Criticism for the Retarded.
For questions, comments, or the occasional stalking letter, send mail to Noel Wood. Please give proper credit when using any materials found within this site.