Link to us!
Syndicate!

Affiliates:
Peep these links:
The Toque
Geek of the Day
Biting Satire
Barry the Bachelor
Evil Guide
Start your own Cult
Funny Feed
Humor Planet
Conspiracy Network
Grouchy Joe
Paranormal Cafe
All Dumb
Busted Tees
Defunker
HEAVENLY CREATURES

1994, dir. Peter Jackson
99 min. Rated R.
Starring: Kate Winslet, Melanie Lynskey.

Review by Noel Wood
HEAVENLY CREATURES sits near the top of my list of all-time favorite movies. Since my first viewing of the film on video in 1995, I have been in love with this movie. And yet, after 7-odd years, I've never had the nerve to write about it.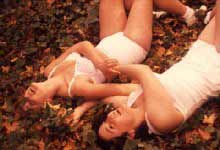 But now that Peter Jackson is a major big Hollywood player after making the entire Lord of The Rings trilogy, it's nice to remind everyone just where he came from, and just why those of us who've been following his work from a long time ago weren't suprised that he did such a good job with LOTR. You see, after directing a trio of very odd, campy, and disturbing independent films (1987's BAD TASTE, 1989's MEET THE FEEBLES, and 1992's BRAINDEAD, aka DEAD-ALIVE) this was his first "legitimate" entry into the film world. The positive feedback from this movie was what got his foot in the door to Hollywood, landing him a deal to make THE FRIGHTENERS a couple years later.
Oh, and of course, this film marks the cinematic debut of Kate Winslet.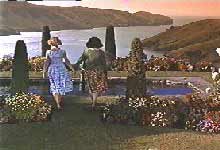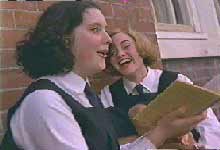 HEAVENLY CREATURES is based on a true story, but that doesn't make it a good movie. The movie would be fantastic regardless, because it's fucking beautiful. But the story itself is of real-life New zealandites Pauline Parker and Juliet Hulme, who in the 1950's perpetrated the cruel murder of Pauline's mother Sarah. Don't worry, I haven't spoiled anything for you. The beauty of this film lies in the hows and whys, not the end result, which is pretty much a given. Pauline (Melanie Lynskey, also in her film debut) attends an all-girls prep school, where she is quite the wallflower. She appears friendless until the day that Juliet (Winslet) arrives on the scene. The two quickly become fast friends, fueled by Juliet's passion for fantastic stories and romantic spirit. Their bond is strengthened by their shared afflictions (Pauline utters one of the most beautiful quotes to Pauline as they are sitting out a physical education course, sharing their stories of ailment: "All the best people have scars. It's all so frightfully romantic!")
The parents of the girls, however, quickly become suspicious that the two may be growing a bit too close, and fear that they may be pursuing a relationship that to them seems impure. Juliet lovingly refers to Pauline as "Paul", and after they two are seperated by Juliet's tuberculosis flaring up, they correspond as characters they have created in their fantastic tales, Juliet as Deborah and Pauline as Charles. Whether we are to believe that their relationship does indeed reach a level of anything other than friendly love is ambiguous, despite a well-placed romantic sequence between the girls. In response to the fear of being seperated forever, the girls decide the only recourse they can take is to slaughter Pauline's mum.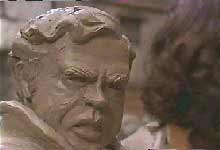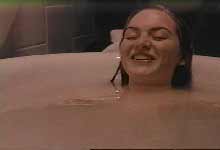 HEAVENLY CREATURES is a character study of amazing ability. The lives of these two girls are painted beautifully from Jackson's unique pallate. The stories the girls write are depicted in beautiful fantasy sequences where they clay scupltures they girls create come to life and entire meadows are morphed into medieval villages right before our eyes. The girls build a shrine to their idols, primarily opera singer Mario Lanza, and there is a terrific sequence where they fantasize being chased from a movie theater by the "hideous" Orson Welles, the antithesis of all that they adore. All the while, we're made to fall in love with these characters, which leads us to be shocked when they finally perpetrate their inevitable crime, regardless of the fact that we know it's coming. Pauline has a certain naive innocence that over the corse of time changes her character from the apathetic to the passionate. Juliet, on the other hand, is so outgoing and positive in her exploits that you're almost forced to love her. I still love the idea that Juliet proposes about her idea of going to the 'Fourth World': "It's like Heaven, but better, because there aren't any Christians."
Those who know Jackson's earlier work know that this film is a complete departure for him. It's more mature and looks far more polished than the stuff from his B-horror-movie roots. But yet, it has his trademark touches all over it. The dream sequences are all VERY Jackson. The humorous sequences, including a good chuckle where Pauline's father, who works in a fish market, serenades a Mackerel while Pauline is enjoying a Mario Lanza record, are also trademark Jackson stuff.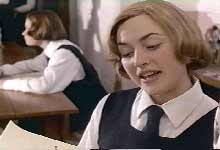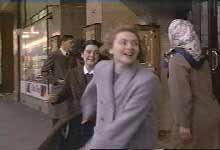 Nearly two years ago, I was forced to part with my VHS copy of this film, because it had been played to death until it was no longer even watchable (still managed to get a few dollars on trade-in at the local used record store, but I feel sorry for whoever bought it). I refused to pick up another copy until it was available on DVD which just happened in recent weeks. So finally, HEAVENLY CREATURES is back in my library in digital format, so it won't be so easily worn out this time. And I'm sure I'll watch it many more times when it's all said and done.
All Material Copyright © 1998-2006 Movie Criticism for the Retarded.
For questions, comments, or the occasional stalking letter, send mail to Noel Wood. Please give proper credit when using any materials found within this site.