Link to us!
Syndicate!

Affiliates:
Peep these links:
The Toque
Geek of the Day
Biting Satire
Barry the Bachelor
Evil Guide
Start your own Cult
Funny Feed
Humor Planet
Conspiracy Network
Grouchy Joe
Paranormal Cafe
All Dumb
Busted Tees
Defunker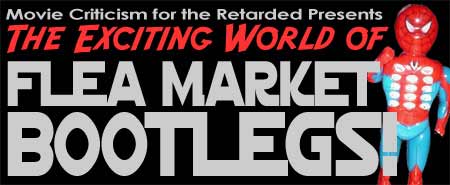 One of the passions we have here at MCFTR is the joy of collecting bootlegged toys. Many of these are just so amusing that they deserve to be showcased here on the site. Here are some of the collections of bootlegged toys we have manages to amass in our time here.
All Material Copyright © 1998-2006 Movie Criticism for the Retarded.
For questions, comments, or the occasional stalking letter, send mail to Noel Wood. Please give proper credit when using any materials found within this site.