COREY FELDMAN: IN CONCERT, IN PICTURES
by Noel Wood

Well, this comes a few weeks late, but in looking for fresh new material to pepper the site with, I realized that while I made a great deal of you hot with anticipation, I never followed up. Of course, this is in reference to the amazing performance by the Corey Feldman Truth Movement, just three weeks ago here in Atlanta. So here I am to recap some of the show's highlights, in a pictorial tribute.

So strike up the band, guys, this one's gonna be one to rock the house.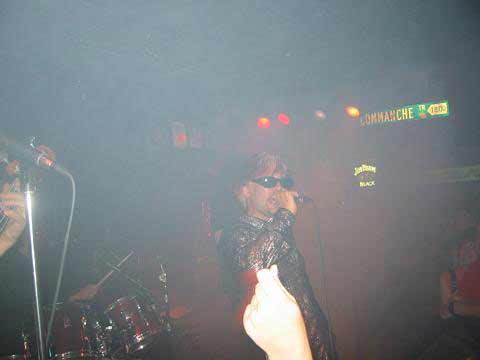 Corey came out to a deafening roar from the crowd. They hungered to see Corey strut his stuff on the stage. After the band warmed him up for a few minutes, Corey emerged from the back in a cloud of smoke, wearing a giant velvet hat and some silky see-thru shirt that had the ladies swooning. The concert pictures here on this page are all courtesy of my good friend Bill, who snapped them all up with his little digital cam.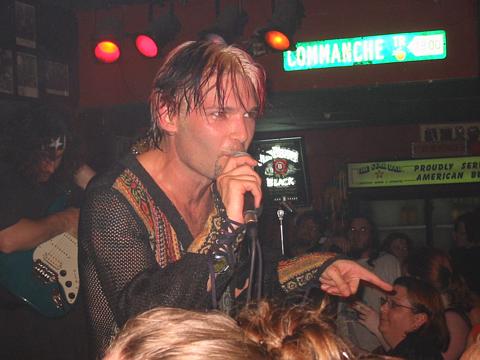 Here you see Corey giving one of his long-winded speeches to the crowd. What's really funny about the show was that I really think a lot of the people actually went expecting to see a really good band, and were actually suprised when they learned the truth that the band really sucked and all their childhood memories dematerialized right before their very eyes.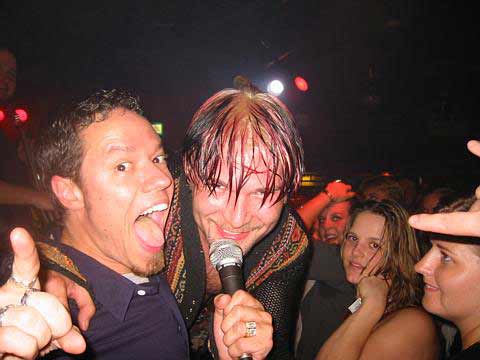 Here my friend Jim gets a chance to pose with Corey, and get a brush with immortality. I think this was the greates moment of Jim's natural life. Jim, who does stand-up comedy, bought a "Corey Feldman Rocks" babydoll T-shirt at the concert, and wore it on stage at a recent performance. By the way, those are my fingers on the right side of the picture giving the devil horns.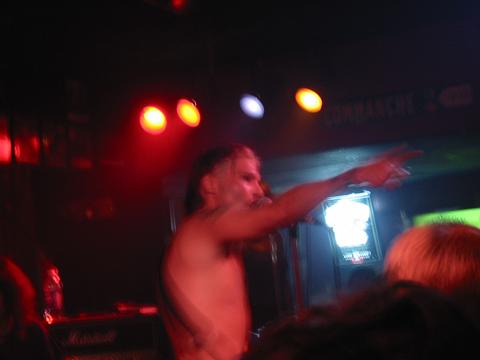 As I'm sure you all expected, Corey's shirt eventually came off. Yes, he's still built like an eight year old boy, and still has the face of one to boot. On top of that, he's really short. I mean REALLY short. He's like 5'2". What's scary is that I hear Corey Haim is even shorter. By the way, my friends Beth and Angee each wore customizeable velcro T-shirts with Corey-related sayings on them for the show. Angee's said "Haim Sux."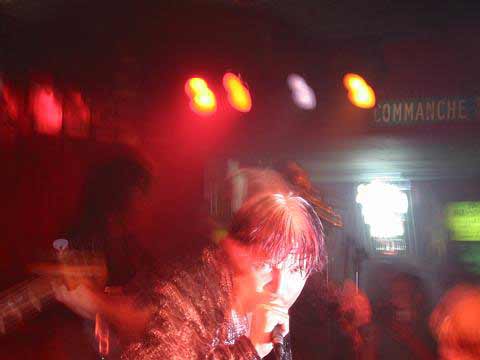 Here's Corey all blurry and rock-starrish again. What's hysterical to me is that the whole night seemed like a big joke that everyone in the building was in on...except Corey. Seriously. He was up on stage, putting his heart and sould in to the performance like he was Roger Daltrey or Mick Jagger, and the crowd is pointing and laughing. Even his band looked as i they knew they sucked, throwing the occasional smirk out there every now and then. Here Corey gives his best Kurt Cobain impression. He truly embodies the life of the rock star, as is apparent here. I think this was somewhere around the time that he decided it wasn't good enough that he was playing his own god-awful songs, but felt it was only fair for him to destroy other peoples' songs as well. This may have been during "Let Love Rule". I'm not sure. I AM sure this was after I'd consumed at least a six pack.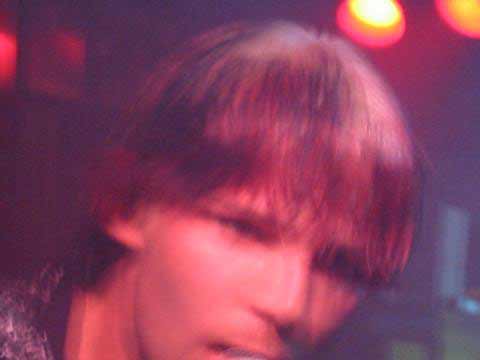 Corey did some really shitty renditions of Bill Withers' "Use Me Up" and the aforementioned Lenny Kravitz hit "Let Love Rule" before closing out with Ben E. King's "Stand By Me" (just to remind everyone that at one point he had a viable movie career). It could have been worse, though. Beth managed to scoe the setlist from the show, and one of the alternate covers he listed was "Baba O'Reilly". With the recent passing of John Entwhistle, this would have been a crime on the face of humanity. Thank the good lord we were spared. On the other hand, Corey's backup singers were pretty hot, and Corey's girlfriend/fiancee/whatever who did double duty working at his merchandise stand has the biggest fake boobs I think I've ever seen, likely purchased by Corey himself from those residuals still coming in from DREAM A LITTLE DREAM 2. And at the end of the night, while his band schmoozed with the crowd, Corey remained hidden in the back, a victim of his own fame. We stuck around long enough to hear the words "Corey Feldman has left the building." We got denied of autograph opportunity as a result, but my friend Joyce managed to track Corey down in his car on the way out and scored some ink from him.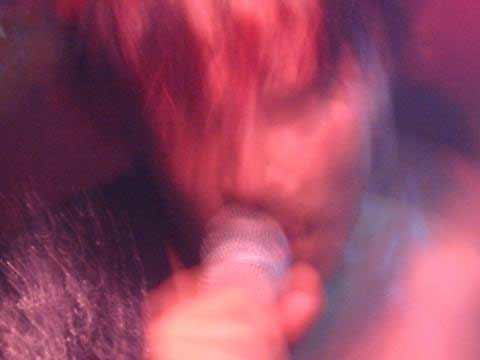 My advice/recommendtion: If The Corey Feldman Truth Movement rolls through your town, be sure to see them. It'll be an experience you're not likely to forget, even if you get as shitfaced as I did in the process.
All Material Copyright © 1998-2006 Movie Criticism for the Retarded.
For questions, comments, or the occasional stalking letter, send mail to Noel Wood. Please give proper credit when using any materials found within this site.