Link to us!
Syndicate!

Affiliates:
Peep these links:
The Toque
Geek of the Day
Biting Satire
Barry the Bachelor
Evil Guide
Start your own Cult
Funny Feed
Humor Planet
Conspiracy Network
Grouchy Joe
Paranormal Cafe
All Dumb
Busted Tees
Defunker
CONFIDENCE

2003, dir. James Foley
97 min. Rated R.
Starring: Edward Burns, Rachel Weisz, Dustin Hoffman, Morris Chestnut.

Review by Noel Wood
You've probably already seen CONFIDENCE.
I mean, you may not have seen it, but yet, you already have. You've seen the dime-a-dozen con job that the characters pull off, you've experienced the slick directing tricks employed, you've heard the fast-talking dialogue before, you've had to put up with Ed Burns' Boston accent. It's all familiar territory here, and you've seen it all before.
I guess it's kind of the Catch-22 with movies nowadays. Everything's been done already, even the stuff that hasn't been done. For every film that's adapted from a television show or book or a remake of a far superior original version, there's an original screenplay that borrows from works past. In the case of CONFIDENCE, you're watching a crime movie that doesn't for one moment let you forget that's exactly what it is.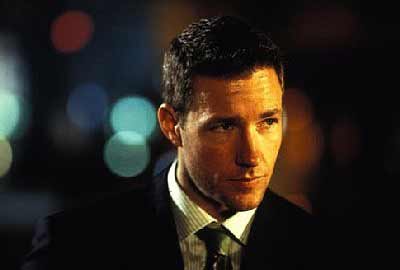 And it ain't as if this is a terrible movie, because it isn't. It just isn't something you're going to be talking about in ten years. Or ten months. Hell, ten minutes. James Foley had a good movie in a similar vein up his sleeve once before when he directed GLENGARRY GLEN ROSS, but fails to rekindle the magic here. Sure, he doesn't have a David Mamet script to work with, but that's just a drop in the bucket. Dustin Hoffman's character King at one point utters a memorable word of advice to Jake: "Style can get you killed." It's too bad that Foley didn't heed this advice in the making of the movie. The frenetic pace and quick cuts are enough to get your head throbbing by the third reel.
In CONFIDENCE, Edward Burns plays Jake Vig, a con man who seems way too good at getting everything to work out just right to make his cons go through. Remember that, it'll help you figure out how it all ends. After one of his boys gets hit, he decides to go in with King on a con that will earn a big payoff. He teams up with a couple of his own guys, as well as a pickpocket named Lily and King's right hand man Lupus, to rip off a big time savings and loan for (put pinky to lip ala Dr. Evil) five million dollars. But like any good crime movie, there's twists and turns to make getting the objective a bit more difficult.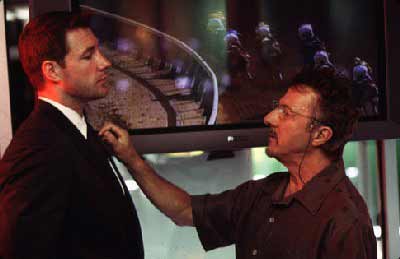 Unfortunately, this film goes a bit overboard with the twists almost to what I call the Reindeer Games Effect: When twists in a plot get so absurd to the point that they totally negate previous plot points. In particular, there's a final twist to the plot that seems okay at first, and then goes and makes itself ludicrous with the final scene. I can't really say much else without revealing too much, but I'll just say this: The film would have been a lot better had they just left it at the twist, and not tried to give us a money shot afterward.
Fortunately, there are some good performances to help the film pick up a few points. The performances are good enough to keep you remotely interested. The supporting cast consists of a fine collection of character actors. Morris Chestnut plays the guy questioning Jake in scenes spliced throughout. Donal Logue and Luis Guzman play a couple of overexagerrated crooked cops. Paul Giamatti is Jake's right hand man. Robert Forster is there, and we all know how cool he is. Then, there's the bigger roles. Andy Garcia is nice in a departure from his normal gig as a fed on the hunt for Jake. Rachel Weisz fills her role here as best as she can be expected to. Dustin Hoffman plays a crime boss so creepy that it's easy to forget this is Rain Man. And, well, then there's Edward Burns.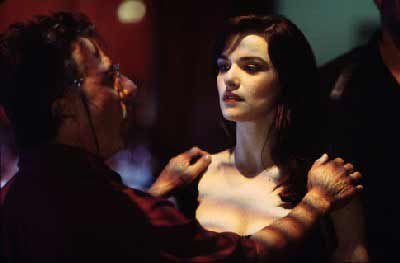 Ed Burns isn't quite ready to be a movie star. He's just too plain. Sure, he's an attractive guy with a decent amount of talent, but he's like Ben Affleck lite™. It's like, say, you want to see a movie with Ben Affleck, and yet you don't want to deal with all the excess baggage that comes from seeing a Ben Affleck movie. Just summon up the work of Ed Burns, and bam!, there you are. Imagine Ed Burns in ARMAGEDDON. Or REINDEER GAMES. Or BOUNCE. Or PHANTOMS. It helps shave off that slight annoyance factor that comes with Affleck's overdramaticizing.
But part of the problem here with Burns, as well as with the other cast members, is that I just didn't care about them. No matter how good the actors were, the script was so weak on character development that I had no reason to give a shit about whether or not the con got pulled off. There was absolutely no chemistry at all between Burns and Weisz for their generic little "will they hook up?" subplot. Hell, the whole script was laden with generic lines and cliches. Cue the catchphrase. Ready the requisite silhouetted sex scene. Prepare the character's "I'm an outsider" sob story. It's not that this was a bad story, and that it didn't have the potential to be an interesting movie, but it sure coulda used some help in getting there.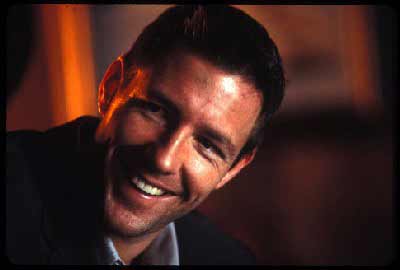 Another slight annoyance I had, not in any way related to the actual content of the movie, involved the theater's failure to show any kind of policy trailer or other theater-identifying bumper before the film. There IS a reasonable explanation for my disappointment, which pertains to this site, although I don't want to reveal anything just yet. I mean, my alterior motive for even going five extra miles to this particular theater was for that little snippet of film, and I was denied it. I guess I was double-fucked that day.
CONFIDENCE is about a con job, and I guess in a sense, it works, because I sure as hell felt conned out of my eight dollars by the end of it. I guess it's worth it if you're really curious about a bit of wasted potential. Other than that reason, I'd suggest hiding your dollars.
All Material Copyright © 1998-2006 Movie Criticism for the Retarded.
For questions, comments, or the occasional stalking letter, send mail to Noel Wood. Please give proper credit when using any materials found within this site.